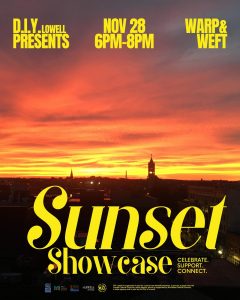 Lowell – DIY Lowell is thrilled to announce its much-anticipated event, the 2nd Annual Sunset Showcase Fundraiser, to be held at the vibrant venue, Warp & Weft. This exciting evening is not just a fundraiser; it's a celebration of community, creativity, and the do-it-yourself spirit.
Event Details:
Date and Time: 11/28/23 | 6PM – 8PM
Location: Warp & Weft, 197 Market St, Lowell, MA 01852
Admission: Donation, Eventbrite "Sunset Showcase"
The Sunset Showcase is more than an event; it's an opportunity for the community to come together and support small-scale projects initiated by local residents.
With the backdrop of Warp & Weft, attendees will immerse themselves in a dynamic atmosphere filled with celebration, DIY spirit, and the promise of a brighter tomorrow.
Highlights of the Evening:
Engage with the vibrant DIY community of Lowell.
Celebrate the impact of past projects and get a sneak peek into the future.
Enjoy complimentary appetizers that showcase the culinary delights of our community.
Raise a toast at the cash bar, fostering connections and collaboration.
This event is not just a fundraiser; it's a testament to the power of community-led initiatives and the transformative potential of DIY projects. Your support at the Sunset Showcase directly contributes to the realization of these projects that enrich our neighborhoods and make Lowell an even better place to live.