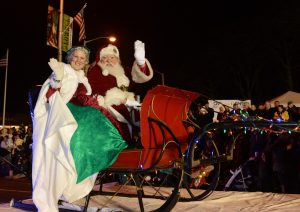 InsideLowell is once again thrilled to livestream the 2023 City of Lights Parade, Saturday November 25th, beginning at 4:30pm.
The emcees for the festivities are Insiders Danielle McFadden and Teddy Panos. As was the case in 2022, the pair will entertain the crowd from the reviewing stand at City Hall and introduce the nearly three dozen floats and organizations participating.
The parade will launch from Jackson Street and proceed to Central and Merrimack Streets before ending at City Hall.
Downtown parking will be restricted with no parking allowed on Jackson Street after 10 AM on Saturday, November 25th. No parking will be allowed on the following streets after 1 PM:
• Arcand Drive
• Central Street
• Fr. Morissette Boulevard
• Jackson Street
• John Street
• Market Street
• Merrimack Street
• Middle Street
• Palmer Street
Free parking will be available all day at the Market Street, John Street, Middlesex Street and HCID garages on Saturday, November 25th.
For more information on the parade and other holiday activities, visit here.