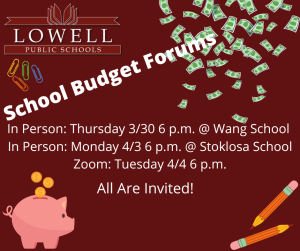 by Jen Myers
To create a great school district budget for next school year we need input from you!
We will be hosting two in-person opportunities to hear about the school district budget and to collect ideas, suggestion, and answer questions from community members.
All are invited to join us at the Wang Middle School in Pawtucketville on Thursday March 30 at 6 p.m. or at the Stoklosa Middle School in the Acre on Monday April 3 at 6 p.m. Additionally, there will be a virtual Community Budget Forum on Zoom on Tuesday April 4 at 6 p.m. Translation services are available at all events in Spanish, Portuguese, and Khmer.
To sign-up for the Zoom forum, visit: http://bit.ly/3n1iYdL
Pre-registration for the in-person sessions is encouraged, but not required. It helps us plan for the number of people to expect.
To pre-register for the in-person forums, visit: https://bit.ly/3yQfSvN