by Jen Myers
Balloon-powered cars, a robot that picks up trash, a school locker that can be opened using your student ID, batteries powered by lemons, an affordable drone that uses infrared technology for search and rescue missions, an experiment on the effects of caffeine on mental health, and so much more was on display in Lowell High School's Thomas Murphy Cafeteria during the annual Science and Engineering Fair. It really had it all.
On that evening, 36 individuals and teams comprised of middle and high school students who participate in STEM Club, presented their work to a band of roving judges. The range of topics and the curiosity that drove them, as well as the amount of work and creativity that went into each project were very impressive. The judges had a difficult job on their hands.
Lowell High School Junior Tiffany Tran took home 1st place honors in the High School division for her work exploring how the "intelligence" of slime mold can be used both in human infrastructure engineering and in medical research.
Slime mold, officially known as Physarum polycephalum, has no central nervous system or brain, but it does actively forage for bacteria, small organisms, and dead organic matter, flowing slowly over its food as it goes. Researchers have shown that the slime mold hunts almost like an animal, reorienting itself and avoiding areas it has already explored in its search for food. It can detect food from quite a distance and creates efficient transportation networks to get to it.
Tran set up a series of experiments, including simple and complex mazes in petri dishes of agar, for the slime mold to solve – lured to the end point by yummy oats. The blob-like substance fully solved 50 percent of the simple and 66 percent of the complex mazes.
Using maps, the slime mold was also tested to see if it could create similar or shorter routes between two cities. It succeeded in 7 out of 11 times on a U.S. map, 6 out of 9 times on a Massachusetts map and 3 of 9 times on an African map.
Tran concluded that the slime mold "is a basic, decently accurate model that is best used for major roads."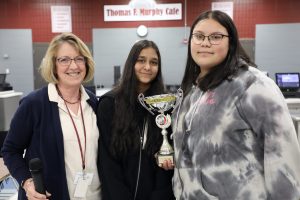 She also concluded that in the future, the substance could be used to explain the growth of tumors because similar to how the slime mold fuses together to create a network to deliver nutrients to itself, tumors do the same to connect to blood supplies and grow.
In the Middle School division, Bartlett Middle School 8th graders Sapphire Feliciano & Yeirideliz Maria won 1st place for their work in testing the water quality throughout their school.
The girls explained the water bubblers in their school, one of the district's older buildings, are very old and students and staff are always a little nervous about the safety of the water.
They meticulously took samples from every bubbler and sink in the building and tested them for a multitude of substances including: chlorine, iron, copper, lead, fluoride, and nitrate, as well as testing the pH and hardness of the water.
They were happy to discover that the water available throughout their school is completely safe to drink, a result that has brought piece of mind to the school community.
The duo did say they would like to raise funds to install water bottle filling stations at the Bartlett.
All of the teams and individual students did an incredible job of presenting their work to the judges. But in the end, tough decisions had to be made. The winners were:
High School
1st Place – Harnessing the Intelligence of Slime Molds to "Mold" a Better Society, Tiffany Tran (Grade 11)
2nd Place – Generator, Dash Hanson; Jake Zink; and Nathan Julia (Grade 9)
3rd Place – Scanning the World, Kiley Conlon (Grade 12)
Middle School
1st Place – Water Quality in Our School, Sapphire Feliciano & Yeirideliz Maria (Grade 8, Bartlett Community Partnership School)
2nd Place – eLocker, Sam Afandor Forero (Grade 5, Pyne Arts Magnet School)
3rd Place – Balloon-Powered Cars, Logan Oum & Anthony Samel (Grade 5, Butler Middle School)