With many questions still unanswered as to the short term and long term future of the UMass Lowell Inn and Conference Center regarding the state's migrant crisis, questions of a different sort were answered on a Friday during a State Delegation-led tour of the facility with UMass Lowell reps as well as leadership from Middlesex Community College, one of the potential solutions to the building's future.
Senator Edward Kennedy brought together State Representatives Rodney Elliott, Vanna Howard, and Jake Vitaly from Rady Mom's office to tour the nine-story facility late Friday afternoon.
I felt it was important for Middlesex Community Collet top get an idea of what they were in for," Kennedy said. "I thought the facility was in pretty decent shape, better than many of us had anticipated."
Representative Elliott added, "it is my hope s the Inn & Conference Center can continue to provide accommodations for visitors to our city, the Lowell Auditorium, Tsongas Arena and our businesses."
Bruce Perry, the District Manager from UML's ICC staff as well as reps from Aramark, the company running hospitality programs at the ICC showed the delegation around the facility, hitting most of the conference rooms, kitchen area, function halls, and dormitory spaces.
MCC President Phil Sisson brought his team to the tour, with a keen eye on the building's hospitality management and culinary options.  MCC Trustees Chair James Campbell accompanied Sisson, along with members of his administration, the provost, and deans and faculty from the college's business and hospitality programs, an area that Sisson has expressed great interest in potentially expanding inside the ICC.
Sisson thanked Senator Kennedy for suggesting the tour, and said it gave college personnel "lots to think about."
"I have said consistently that Middlesex wants to be part of any problem-solving solutions that we can for the city with regards to that property," Sisson said, "and the potential on many fronts that the ICC presents is certainly going to lead to further discussions."
What still remains unclear is whether or not the building is going to be used for migrant housing, an idea that has been discussed by the administration of Governor Maura Healey.  Locally, however, several economic development organizations have expressed concerns about what the conversion to housing would mean for the future of the ICC, and the downtown in general.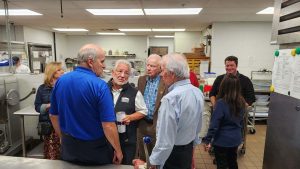 UMass Lowell cleared out its student population, so the upper floors of the building are completely vacant.  Some events, including hoteling for this weekend's Democratic State Convention are still moving ahead, but it looks like next week's Project Learn conference at the ICC might be the swan song at the facility – at least for now.
What happens next is still very much up in the air , but the delegation clearly walked away from Friday's tour with lots to chew on in the coming days.